NO BLACK FRIDAY
Prix justes. Tout le temps.
Nous n'attendons pas les périodes de promotion pour vous proposer les meilleurs prix : ici, vous payez toute l'année le plus petit prix possible pour des produits de grande qualité, fabriqués de façon éthique. Nos prix n'ont pas augmenté depuis 2015.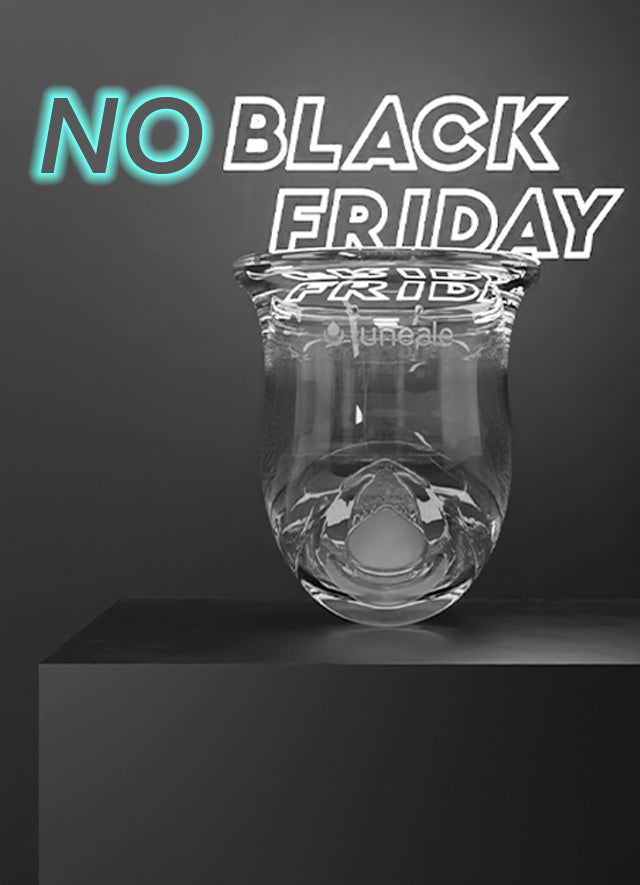 Votre routine de règles idéale.
Let customers speak for us
Satisfaite
Insertion facile, légère difficulté a la mise en place, mais très facile à retirer. Pas de fuite. Très contente.
Satisfaite
Je n´ai eu aucun mal à l´insérer
Pas de fuite, par contre pour l´extraire c´est pas encore gagné
J´y arrive sans douleur mais je galère
Je pense que je n´ai pas encore le coup de main mais je ne désespère pas
Meilleure cup post-accouchement vaginal
J'ai accouché en maison de naissance d'un coco de 9lb2oz (4,1 kg) en 2016. Mon corps s'en est trouvé changé, disons, et c'est un euphémisme. Malgré la physio, je n'ai jamais retrouvé le tonus d'antan et toutes les cups ou disques menstruels que j'avais essayées depuis m'étaient inutiles ou inconfortables. La forme de la luneale, un cylindre peu évasé, et sans tige, fait qu'elle reste bien en place et ne me blesse pas l'entrée du vagin, même quand je la porte debout longtemps. Elle est aussi très souple et facile à manier, et enlever (mais bon, pour ça, moi, j'ai de la place! ;) Le principal défaut: elle est chère à faire venir au Canada! Vivement des distributeurs à Montréal!! :)
Bravo et merci!
Au top
J'ai utilise cette cup depuis plusieurs années elle est vraiment au top ! Aucune gêne facile à utiliser et sure !
Très bien
Très bien fais son boulot n'agresse pas et l'odeur d'amande est très subtil je l'utilise très peux pour moi car déjà un gel spécifique mais les rare foi où utiliser pas d'irritation n'y rien donc top,je recommande
Retour de couches
bonjour,
j'ai eu mon retour de couches au bout de 4 mois après l'accouchement, j'utilise ma cup d'avant... elle me fait mal, très inconfortable... bref, j'essaye la lunéale, je ne sens plus rien, facile à insérer et surtout elle est très souple! pas de fuite, bravo pour ce très beau produit.
Ça change les règles
Trop contente de mon achat.
C'est le premier cycle où j'essaye la cup. Ça demande un peu d'organisation au travail mais ça se fait très bien. On part avec sa petite bouteille d'eau au toilette et hop c'est fait.
Je ne pourrai pas revenir en arrière. Perso les tampons m'ont toujours plus où moins gênés ( ça bouge ça fait un peu mal parfois) et la je ne sens rien du tout !
C'est top !
Je recommande
Après plus de 10 ans de cup dont 3 modèles différents. Ma préférée est la lunéale. Le fait qu'il n'y ai pas de tige fait la différence (j'avais souvent une gêne, et un frottement avec la tige des anciennes cup)
De plus la cup est très souple, dès qu'elle est mise je ne la sent pas du tout. Très facile à mettre et à enlever j'ai eu 1 loupé la 1 ère utilisation puis j'ai compris comment la mettre. Je recommande vraiment et je vais de suite la suggérer à toutes mes copines aussi adeptes de cup !
A voir si elle finit pas se teinter (comme toute mes autres cup...)
Pensez à faire des cups noir ou violet foncé !! (malgré que se soit du "propre sale" c'est le seul point négatif des cup
Je la recommande
Ravie d'avoir découverte cette marque et leurs produits. Cette cup est facile à utiliser.
Bien
Une Cup qu'on ne sent absolument pas une fois en place. Même en faisant du sport. Par contre, il faut apprendre à bien la placer pour éviter des petites fuites. Sinon, au top !
Superbe !
Portant un sérilet au cuivre mes menstruations sont très très abondante j'ai tout tester avant la CUP LUNEALE rien avait fonctionner...
La cup est très confortable aucune fuite, facile d'utilisation et de retrait, merci LUNEALE !
Première utilisation
Je viens de faire mon premier cycle menstruel avec ma nouvelle cup, je suis contente. Après quelques soucis d'installation, quelques pertes de sang dans la culotte, j'ai très vite trouvé comment installer correctement ma cup et je suis heureuse d'avoir fait cet achat. Il ne me reste plus qu'à l'essayer à la piscine (c'est avant tout pour ça que je suis passée à la cup, ne supportant plus les tampons). Simple à utiliser, indolore (on ne la sent réellement pas), simple à retirer et à entretenir, je recommande vivement la cup Lunéale.
Génial!
Premier achat d'une cup pour ma part. Ayant des règles très abondantes les deux premiers jours, voire parfois sur cinq jours j'étais assez septique sur l'efficacité. J'ai été agréablement surprise. Aucune fuite et une contenance suffisante. Un peut difficile de la mettre la première fois mais c'est une question d'entraînement. Une fois en place, on n'y pense même plus. Je recommande vivement. Ca change la vie.
Cup 25 et 30 ml
Très satisfaite d avoir investi sur conseil de ma collègue qui en a essayé d autre du coup je n ai pas de moyen de comparaison mais ça m a changer la vie un peu de difficulté à la prise en main mais grâce au conseil sur votre site ça va déjà mieux plus de débordement de serviette c est top je recommande l essayer c est l adopté 😁
Natural solutions for each cycle problem
Even better in pack
Take advantage of special offers by choosing our all-inclusive packages at low prices.
SEE THE PACKS
All Luneale products are made in France from the best raw materials and with respect for people.

Innovation, Responsibility and Transparency
Since 2015, Luneale has been taking care of your body while respecting the planet and its inhabitants.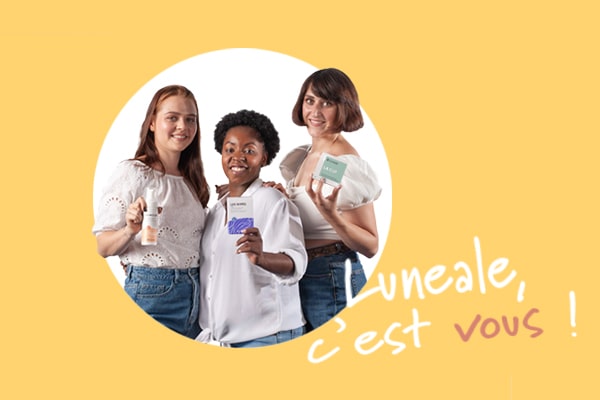 A word from Leocadie, Founder of Luneale.
Thank you.
Half of humanity has its period during half of its life, with all the consequences it has, both on the intimate sphere, on society, on the environment. Yet in 2015, when Luneale was created, no brand had really taken on this subject with a fresh look and strong values. That's why I created Luneale: so that never again will you have to choose between your values, your comfort, your health and your budget.

Your daily feedback leads me to believe that we are on the right track, your testimonials are our driving force. So I want to thank you for trusting us to accompany your cycles.