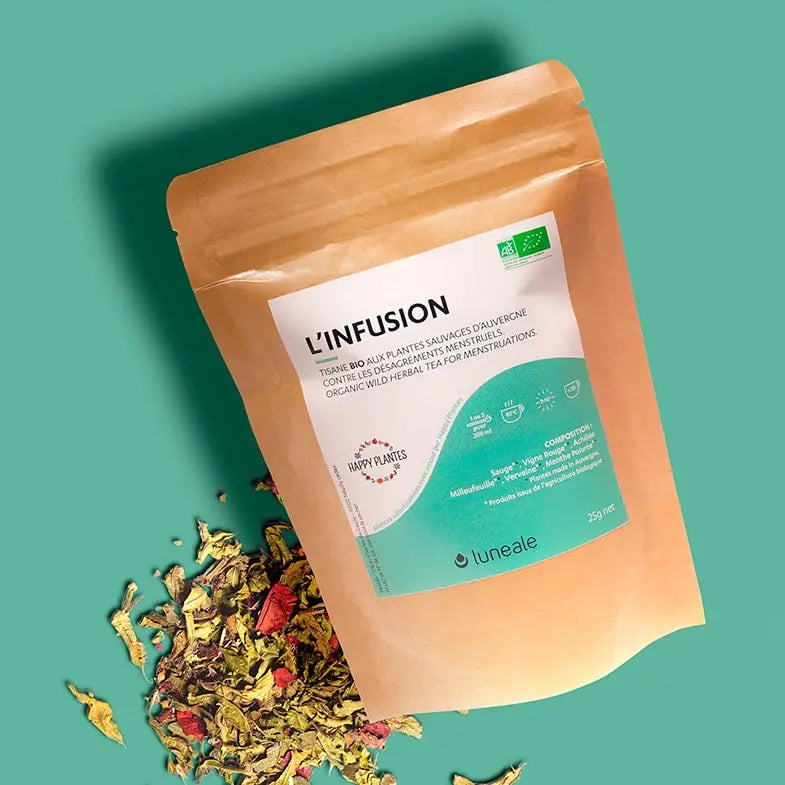 Delicious organic wild plants to fight against PMS and period discomfort.
L'INFUSION Bio Luneale was thought in collaboration with Happy Plantes to attenuate the menstrual discomforts. Zipped bag of 25g.

✔️ With wild organic plants of Auvergne
✔️ Whole leaves
✔️ Pleasant taste
✔️ About 20 cups per bag
✓ Sage: the plant of menstrual cycles par excellence, it relieves period pain
✓ Red vine: regulates blood circulation
✓ Yarrow: stimulates blood flow to the pelvic area and uterus, eases spasms
✓ Verbena: anti-inflammatory, it is also a muscle relaxant that helps ease spasms
✓ Peppermint: among its many benefits, it is antispasmodic, antinauseant and analgesic.

100% of the plants are from organic farming and picked in Auvergne.
Utilisation
Efficiency tastes good!
Goût agréable, il faut juste s'y tenir !
Je ne sais pas si la tisane fait des miracle, à voir sur du long terme.
Elle aide très probablement à réduire les douleurs du SPM sur la durée.
Vos questions fréquentes
This section doesn't currently include any content. Add content to this section using the sidebar.